Welcome
Next party: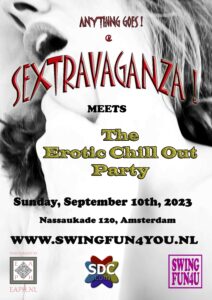 English:
In anticipation of finding a new permanent location for the Sextravaganza parties, we present the following event:
(Anything goes @)
SEXTRAVAGANZA meets the EROTIC CHILL OUT PARTY
On Sunday September 10th, 2023, from 4 pm (single men: 5 pm) to 9.00 pm in Sameplace in Amsterdam.
Regardless of your gender, regardless of your orientation, regardless of your sexual preference, regardless of your fetish and regardless of your fantasies: Sextravaganza meets ECO party is the party for…YOU!! Still an all-round sex party where you can make all your fantasies come true as a couple, single man, woman or T-girl. But now also an easy going, laid back and pleasant get-together on a Sunday afternoon /evening in a cozy erotic café in Amsterdam. An active party for do-ers: for women who like more men, for men who appreciate an active afternoon/evening, for T-girls and lovers, but also for experienced and novice BDSM-ers, kinksters and fetishists. In short: something for everyone. Just curious? You are also welcome!
The location has the atmosphere of a cozy brown café, but one with a kinky twist and various play areas and equipment (darkroom, gloryholes, slings, gynecology chair, lockable playroom, cage, Andreas cross, etc.).
Adress: Nassaukade 120, Amsterdam
Entrance
-Couples, women and transsexuals FOR FREE
-Men €25
Min.bar spend:
-men  € 25,-
-women and travos (T-girls) € 12,50
-couples € 25,-
Incl free towel condoms snacks and a small – but tasty – buffet, finger foods, lubricant and disinfecting gel
Dress code couples women and t-girls Sexy/Kinky
Men nude or dark panties
It goes without saying, but just to be sure: Pushy or misogynistic behavior is absolutely not accepted. After 1 warning, removal follows, after which you are no longer welcome at our parties.
And at last:
To prevent possible corona infections during our party the following measures are taken:
– Maximum ventilation is provided.
– Of course you stay at home – in case of symptoms that can belong to a corona infection.
Questions? Use our contactform
This party is also on SDC! No SDC profile yet? Make a FREE one using this link: https://www.sdc.com/signup.php?ref=10235
As soon as possible we'll put the next Sextravaganza party on the calender. If you want to be sure not to miss it send us a message through the contactform: you will then recieve an invitation to the next party as soon as it's planned.