Welkom                                                               
Eerstvolgende party

(Info onder de flyer)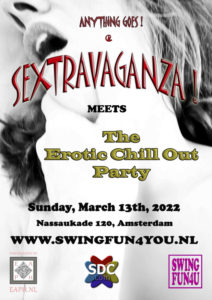 In afwachting van het vinden van een nieuwe vaste locatie voor de Sextravaganza parties presenteren wij het volgende EENMALIGE event:
(Anything goes @)
SEXTRAVAGANZA meets the EROTIC CHILL OUT PARTY
Op zondag 13 maart 2022 van 16 tot 21.30 uur in Sameplace te Amsterdam.
Ongeacht je geslacht, ongeacht je geaardheid, ongeacht je seksuele voorkeur, ongeacht je fetisj en ongeacht je fantasieën: Sextravaganza meets ECO party is het feest voor…JOU!! Nog steeds een allround seksfeest waar je als stel, single man, vrouw of T-girl al je fantasieën kan laten uitkomen. Maar nu ook lekker laid back, gemoedelijk op een zondagmiddag en avond in een gezellig erotisch café in Amsterdam. Een actief feest voor doeners: voor vrouwen die wel van een mannetje meer houden, voor mannen die een actieve middag/avond op prijs stellen, voor T-girls en liefhebbers, maar ook voor ervaren en beginnende BDSM-ers, kinksters en fetisjists. Kortom: voor ieder wat wils. Slechts nieuwsgierig? Ook dan ben je welkom!
De locatie heeft de sfeer van een gezellig bruin café, maar dan wel een met een kinky twist en verschillende speelruimtes en -toestellen (darkroom, gloryholes, slings, gynaecologie stoel, afsluitbare speelruimte, kooi, Andreas kruis etc.).
Adres: Nassaukade 120, Amsterdam.
Entree
-Stellen, vrouwen en travo s GRATIS
-Mannen € 35
Min.bar besteding:
-mannen en travos (T-girls) € 17,50
-vrouwen € 12,50
-stellen € 25,-
Incl gratis handdoek condooms hapjes en een klein – maar smakelijk – buffet, fingerfoods, glijmiddel en desinfecterende gel
Dresscode: stellen, vrouwen en t-girls erotische kleding
Mannen naakt of donkere slip
Het spreekt eigenlijk voor zich maar voor alle zekerheid: Opdringerig of vrouwonvriendelijk gedrag wordt absoluut niet geaccepteerd. Na 1 waarschuwing volgt verwijdering, waarna je niet meer welkom bent op onze party's.
En nog even dit:
Ter voorkoming van mogelijke corona besmettingen tijdens onze party hanteren wij de volgende maatregelen
– Er wordt maximaal geventileerd.
– Uiteraard blijf je – bij verschijnselen die kunnen horen bij een corona besmetting – thuis.
Vragen of opmerkingen? Gebruik ons contactformulier
English:
In anticipation of finding a new permanent location for the Sextravaganza parties, we present the following ONE-TIME-ONLY event:
(Anything goes @)
SEXTRAVAGANZA meets the EROTIC CHILL OUT PARTY
On Sunday March 13th, 2022, from 3 pm to 9.30 pm in Sameplace in Amsterdam.
Regardless of your gender, regardless of your orientation, regardless of your sexual preference, regardless of your fetish and regardless of your fantasies: Sextravaganza meets ECO party is the party for…YOU!! Still an all-round sex party where you can make all your fantasies come true as a couple, single man, woman or T-girl. But now also an easy going, laid back and pleasant get-together on a Sunday afternoon /evening in a cozy erotic café in Amsterdam. An active party for do-ers: for women who like more men, for men who appreciate an active afternoon/evening, for T-girls and lovers, but also for experienced and novice BDSM-ers, kinksters and fetishists. In short: something for everyone. Just curious? You are also welcome!
The location has the atmosphere of a cozy brown café, but one with a kinky twist and various play areas and equipment (darkroom, gloryholes, slings, gynecology chair, lockable playroom, cage, Andreas cross, etc.).
Adress: Nassaukade 120, Amsterdam
Entrance
-Couples, women and transsexuals FOR FREE
-Men €35
Min.bar spend:
-men and travos (T-girls) € 17,50
-women € 12,50
-couples € 25,-
Incl free towel condoms snacks and a small – but tasty – buffet, finger foods, lubricant and disinfecting gel
Dress code couples women and t-girls Sexy/Kinky
Men nude or dark panties
It goes without saying, but just to be sure: Pushy or misogynistic behavior is absolutely not accepted. After 1 warning, removal follows, after which you are no longer welcome at our parties.
And at last:
To prevent possible corona infections during our party the following measures are taken:
– Maximum ventilation is provided.
– Of course you stay at home – in case of symptoms that can belong to a corona infection.
Questions? Use our contactform
Voor wat betreft de voortzetting van de reguliere parties: we houden de vinger aan de pols en zullen je zodra dat weer mogelijk is meteen de eerstvolgende Sextravaganza party op de kalender zetten. Wil je zeker zijn de volgende party niet te missen, stuur ons dan even een berichtje via ons contactformulier. Je ontvangt dan automatisch een uitnodiging voor de eerst volgende party
HOE KAN IK RESERVEREN?
Klik HIER en stuur een berichtje. Geef aan of je als stel, vrouw, T-girl of man reserveert en controleer of je mailadres goed is ingevuld.
English:
As soon as possible we'll put the next Sextravaganza party on the calender. If you want to be sure not to miss it send us a message through the contactform: you will then recieve an invitation to the next party as soon as it's planned.